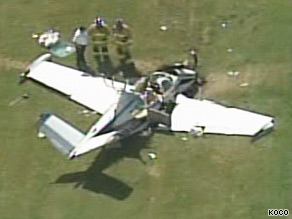 A single-engine plane crashed Saturday outside a bank in Oklahoma City, Oklahoma, seriously injuring the five people on board, authorities said.
A damaged airplane lies on the ground Saturday next to a busy road in Oklahoma City, Oklahoma.
The pilot reported engine problems shortly after leaving the city's Wiley Post Airport, about a mile away from the crash site, at midmorning, said Lynn Lunsford, spokesman for the Federal Aviation Administration.
Fire Department Deputy Chief Cecil Clay said the two men and three women on the plane were taken to hospitals. Lunsford said they suffered multiple injuries.The plane was headed to Enid, Oklahoma, about 100 miles north of Oklahoma City. The pilot tried to return to Wiley Post Airport after he recognized the engine trouble, Lunsford said.
Imagine how nervous this guy was?
During this financial crisis and Plane company cut-backs to have a crash?
Three of the injured are in mild state while one is in okay state and sadly ythe other is in critical state.
Well, this comes to show that we're not as safe as we thought...